PEM Confinement Nanny Review: 5 Mums Share Their Experience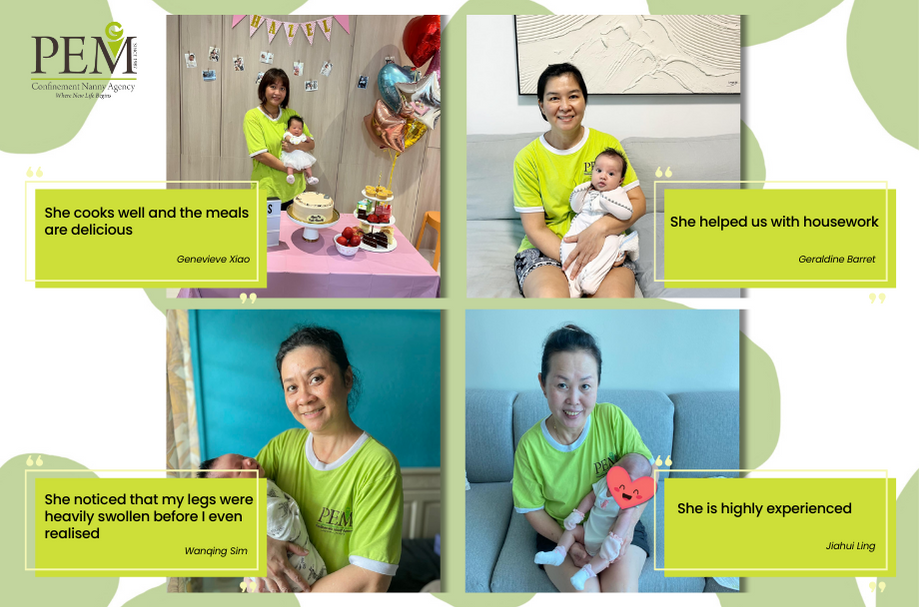 Welcome to the world of postpartum recovery and care! If you're a mother seeking a nurturing and supportive environment to embark on your journey of postpartum recovery, you've come to the right place. Today, we have gathered a collection of confinement nanny reviews to share with you of our very own confinement centre, PEM Confinement Nanny Agency. 
Hopefully, these reviews will provide you with insights to help you make an informed decision. Join us as we explore the testimonials, stories, and recommendations shared by individuals who have found comfort, guidance, and healing with us. 
Without further ado, here are 5 of our confinement nanny reviews where mothers share what made their postpartum experience with us truly extraordinary!
"A big thank you to my confinement nanny Siew Chin for taking absolute care of my baby and I. This is my second time engaging Siew Chin, as we were very happy with her dedication for my first born. 
Siew Chin is highly experienced and spared no effort in making sure that my baby and I were well taken care of. She cooks well and attends to baby's needs efficiently and appropriately. Siew Chin also wakes up multiple times at night to attend to baby and also to ensure that the next day's meals/soup preparation are in order. I could truly rest and recuperate during my confinement knowing that things are in Siew Chin's good hands 🤗 thank you once again!" – Jiahui Ling, via Facebook Review
"We would like to say big thank you to aunty Lee Ching Meh for her help throughout my confinement and taking care of our baby boy No.2. She took good care of our baby, cooked delicious food for the whole family and helped us with housework too. She can speak English very well. She is very patient, caring and always smiling, she definitely possesses a very positive attitude. She is very experienced and knowledgeable when it comes to newborn related matters. We are grateful! Thanks aunty Ching Meh! 🙏🏼" Geraldine Barret, via Facebook Review
"Thank you Fent Jie for taking good care of both baby Hazel and myself.
Fent Jie is meticulous, patient and extremely competent in caring for an infant and this includes taking care of baby at night time as well, thanks to this I'm able to rest well and recover during confinement having been assured that my baby is in good hands. 
Also, she cooks well and the meals are delicious and at the same time nutritionally balanced.
All in all, I would highly recommend Khor Fent Fent to any new mummy that is looking for a good confinement lady." – Genevieve Xiao, via Facebook Review
"Thankful that I made the right choice to engage PEM, and to have such an experienced confinement nanny, Aunty Li Hong, assigned to me which made my confinement journey so much smoother. 
Aunty Li Hong was able to get accustomed to and work around the usual family schedule really quickly, and provided so much help to take care of both me and the baby. Her attentiveness to both the baby and me took me by surprise. In fact, she noticed that my legs were heavily swollen before I even realised, and prepared the herbal water for me to soak in every night. She taught me how to recognise the baby's cues and was extremely detailed in taking care of the baby and teaching me how to do so. She was also very insistent that I get enough rest, and oh boy did I realise how important that was, be it in being able to give my best every single day, to be able to generate more milk flow. 
Her food is also on a whole new level. I never knew confinement food could taste so good. Even plain vegetables taste so good I have no idea why. It seems like whatever you want to eat, Aunty Li Hong knows how. 
Beyond her confinement job, she was also a huge source of support and strength in ensuring my mental health, and the talks with her and her advice allowed me to weather through all the postnatal blues that I was facing. 
Now that I'm almost on my last week with her, I can't bear to think how life would be like without her. But I'm certain that her teachings will be able to help me through motherhood and I definitely and strongly recommend her to all mothers to be. 
Thank you Aunty Li Hong, for being the strong pillar of support during my confinement! ❤️" – Wanqing Sim, via Facebook Review
And last but not least, our final review actually comes from a father! Here's what he has to say.
"Thank you nanny Ooi Chew Lee for taking good care of my baby and wife. She was appointed to us when we had our firstborn and we have engaged her again for our second child due to her cheerful character and dedication. 
Auntie is highly experienced and spared no effort in making sure that my baby is well taken care of day and night. She would also be open to changing her ways of doing things based on our preference which made us comfortable leaving the baby with her. My wife could rest well knowing baby is in Auntie's good hands of Auntie. Thank you once again Auntie!" – Eugene Chua, via Facebook review
Why choose PEM?
PEM Confinement Nanny Agency is the largest confinement nanny agency in Singapore. So if you are looking for a confinement nanny in Singapore, you need not look further. Our confinement nanny Singapore agency provides a multitude of services, such as day and night baby care, confinement food preparation, confinement bath preparation, breastfeeding support, and more. Postpartum recuperation has never been this easy and stress-free with PEM confinement nanny Singapore. So, get your FREE confinement consultation now!