Her gentle, kind, loving nature make me feel at ease with her care for me, my son and even my husband. The meticulous and initiative work she provide is impeccable.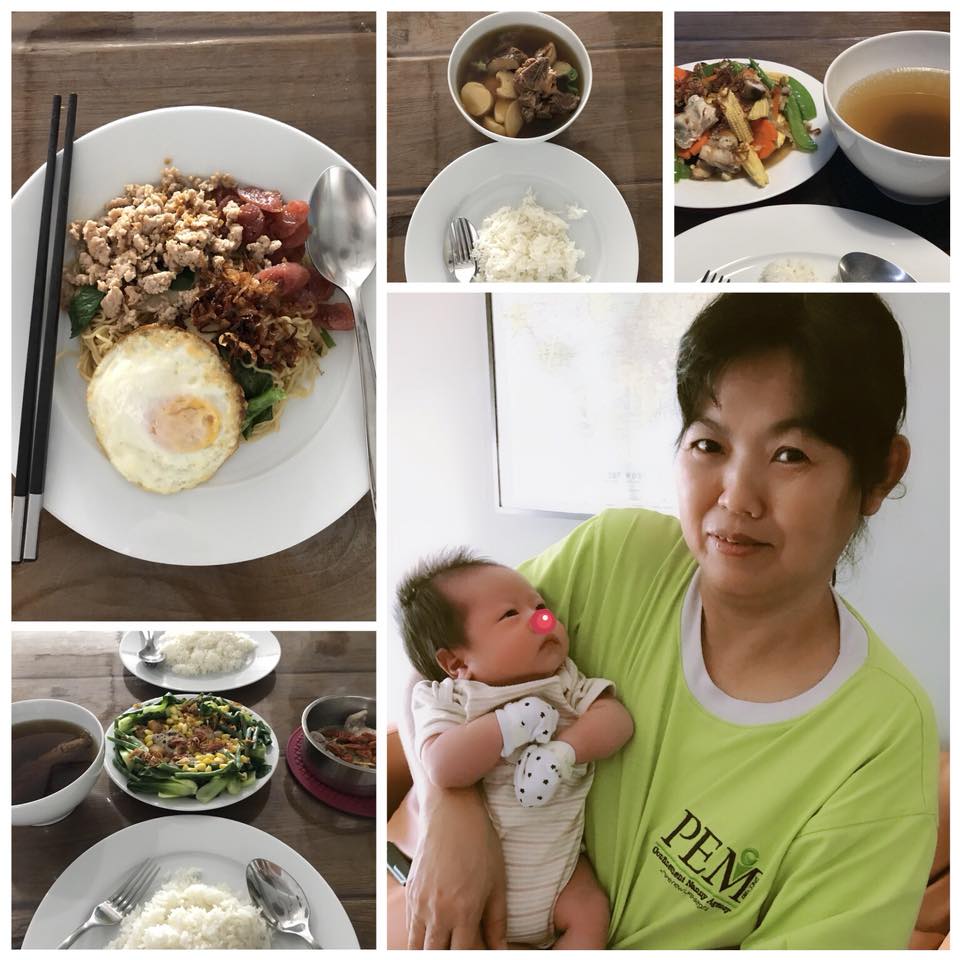 Meeting and having Meiling (郑美玲 #1240) as our confinement nanny is truly a blessing and privilege.
Mei Ling showed her years of experience through how she handled my son's milestone changes, major colic issues(throw ups), sleep patterns and technics in soothing him.
If one is willing to listen to her she is very willing guide and teach. She does not push her ideas on to me and she explains the reasons of do's and don'ts with her supporting experiences. It is a very open and relax conversation. For me the most important part was that everything is negotiable as compared to the horror stories I've heard.
Her gentle, kind, loving nature make me feel at ease with her care for me, my son and even my husband. The meticulous and initiative work she provide is impeccable.
My Son started to threw up a lot after 2nd week of birth, she told me he needs to be brought to the doctor as she suspect his stomach development maybe the cause of it and we quickly went. The Doctor explain that due to his size his diaphragm development is lower then his stomach opening, causing the milk to flow out easily. With that she confirm her suspicion, she basically click with the Doctor on handling my son to have lesser milk quantity but frequent meals (少量多餐), and constant burping before and after meals. She then taught me various massage ways to handle my son colic problem with special oil especially for babies and how to apply it. She also introduced me home remedies for my son wind issue that allow him to let out gas well.
As a new mother, I was feeling very anxiousness and fearful yet Meiling calmly handled the situation, me and my son with tender loving care. Her love for my son is her passion for babies making her the ideal nanny. But that is not all to what a nanny does, in knowing that yet she went above and beyond in taking care of me and my husband.
She took well care of me in the needs of confinement period, allowing me to have good rest and would frequently come to talk to me as she saw how anxious I was regarding my son and breast feeding issues. She provided a listening ear during the confinement period when my husband, family and friends were busy at work. We talk about everything under the Sun. Thats when she introduces me to mummy and baby things that in her experience are good and cheap to get.
She took the initiative to pack the storage pot cabinet and food rack as those were the area that she would have to access the most during the 28 days. After packing she will inform if I would like her to continue packing the others. I love that she ask first before doing more.
She would cook to our taste, making it healthy, visually pleasing and sumptuous at the same time. She even cook food that I miss so much during pregnancy. Eg, Kolo Mee, Herbal Bakuteh and many more. My husband would come home for lunch and she will adjust the cooking time to fit my husband schedule. When my relatives are around she will ask if they want too eat and cook for them.
She will clean the house and toilet after every cooking session and bath for my son. She will keep everything tidy and ready for the weekends when visitors came.
I really wanted to extend her stay with us for another 2 weeks but she is unable too due to family matters.
I highly recommend those whom are looking for a nanny whom will put you, your baby and family at ease. I feel honored to have met her. Thank God for such a huge blessing.
Thank you PEM for assigning her to us and thank you Meiling for the tender, loving, care that you gave during this 28 days. Me and my Son will miss you dearly and my husband will miss your cooking very much.
谢谢和感恩! 小熊
?会很想你!
?
?