Things to Consider When Swaddling Your Baby
What is swaddling? Swaddling is a traditional practice of wrapping your baby with cloth to help keep them snuggly and comfortable. By swaddling your baby, you would be able to make your baby feel calmer and more relaxed. This is because swaddling emulates the condition of being in a womb. Hence, your baby will feel right at home as they sense the same familiarity and comfort. In order to achieve this, you will need to equip yourselves with the knowledge of proper baby swaddling. Do not panic or worry if you have never swaddled a baby before, we have got you covered! This guide will brief you on things to note when swaddling your baby.
Wrap For Comfort
The key to a good swaddling practice is to make sure the baby is comfortable. In order to make your child feel right at home, you will need to make sure that your little bundle of joy is not wrapped too tight or too loose. Wrap them too tight and there might be risks of developmental issues with the baby's hip joint, wrap them too loosely and they might push the wrap out easily and this would lead to them being awake in the middle of their sleep. 
Make sure your baby movement is not restricted when swaddled. Your baby should be able to move the hips and knees freely to kick. When swaddled,  your baby's legs should be able to be in a natural frog-style position. While swaddling is good for your baby, some babies might not be too fond of it. Learn the cues about your baby, their verbal or body language when you swaddle them. If your baby starts to kick off his swaddling day after day, chances are, they are not too comfortable in it.
Make Sure The Baby is on Their Back
When swaddling your baby, it is important to keep them on their back as this is the best and safest position to swaddle your baby. This position reduces the chance for your baby to choke due to the less oxygen supply and reduces the risks of SIDS (Sudden Infant Death Syndrome). Speaking of SIDS (Sudden Infant Death Syndrome), it is best to swaddle your baby right from birth every day for day and night-time sleep. 
If someone else is taking care of your baby, guide them. Let them know how to swaddle your baby correctly and put your baby down to sleep on his back by spending some time with them. Meanwhile, if you are looking for more options on swaddles with comfortable and breathable materials, you can pay MumChecked a visit!
Ensure Proper Ventilation
Making sure that your newborn's arms or limbs do not flail around is not the only thing you should prioritize when swaddling your baby. In fact, you should also give more thoughts and consideration to the materials of the wrap or swaddle. Swaddling would cause your baby to overheat if it is not done correctly, or done with the wrong materials, or if you place your baby in a poorly ventilated environment. This would then raise the risk of SIDS (Sudden Infant Death Syndrome). 
Do not put extra layers on your baby when swaddling and keep the room temperature between 20 to 22 degrees Celsius all year. Meanwhile, if you notice your baby snoring after falling asleep, this could be due to a stuffy nose and it would normally subside with time. If you think your baby is having a hard time getting better sleep, you may engage your local baby sleep consultant to find the best solution.
You May Also Read this : Top 5 Ways To Put Your Baby To Sleep
Swaddle in Moderation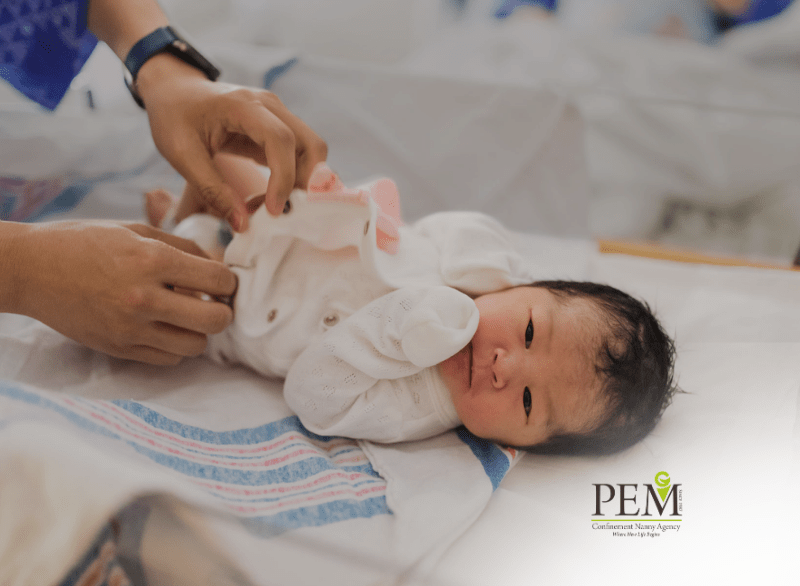 By swaddling your baby at night or during naps, you would be able to help your child sleep more soundly.  Additionally, swaddling your baby is a good way to establish a sleeping routine for your child. By making sure that your baby is familiar with this practice, your baby would eventually adjust and doze off before you know it!
While swaddling does bring its benefits, constant swaddling will limit the baby's movement and growth. You should let your baby's arms and legs move freely during the day. When is the right time to stop swaddling then? You should stop swaddling and get your baby to fall asleep on his own when your baby is able to roll over. Usually, this happens when your baby is between two to five months old.
All in all, keeping your baby swaddled and secure during sleep is important. These tips might give you an idea on what to do to ensure that your baby gets better sleep. However, ultimately, nothing replaces your love and company. Till' next time mommies!
Interested in what you are reading? Do share it with your friends! If you are in need of trusted help for confinement care and newborn care, including how to make baby sleep, PEM confinement nannies are all experienced and well-trained to help!