Reducing The Cost You Will Spend on Your Confinement Lady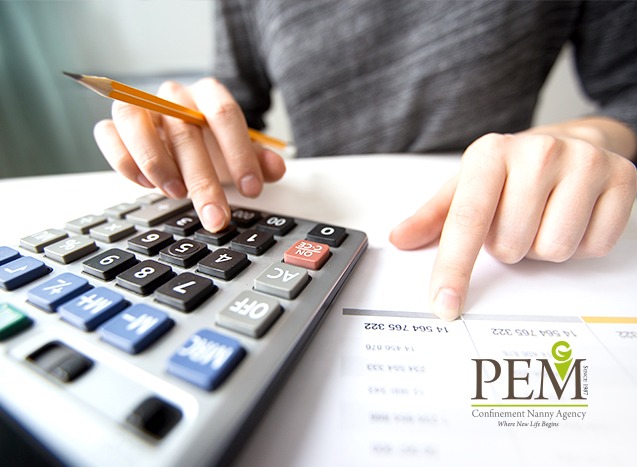 Are you done comparing and considering the confinement nanny service providers around you? Ready to move on to the next stage that we all dread; calculating the cost? We bet not! But you know it has to eventually come to this, and that's why you are here.
On paper, you are presented with a certain price for the service of a confinement nanny. After adding this and deducting that, the next thing you know, the amount totals up to a much higher rate. 'Where does all that come from?' you might wonder. Well, that's what we are here to answer! Go over this list to figure out what can make your CL service rate increase and find out how you can spare a hole in your wallet!
---
1. 'Tis the season! – EDD During a Festive Celebration
If you give birth during festive season like CNY, you can expect your confinement lady service to cost higher – sometimes double the actual rate. If you and your partner are a meticulous couple, you can plan your conception so your EDD will not fall around the holidays. Solution? Go for confinement nanny agencies as they offer a fixed price, even the increased rate. If you opt for a freelance CL, they can mark up the price to a double or triple the price!
2. The Place, Too. – Requesting to

Complete

Household Chores
Your nanny will take care of various things like cleaning your newborn's bottle or handwashing their clothes. If you require them to perform more household chores like cooking for other family members and running personal errands, you might have to pay more.Regardless, if you are first-time parents and have no other family member staying with you, your CL might gladly cook extra for your partner. However, if your place houses many people and you still want your CL to cook for all, an additional cost will be imposed accordingly. Under such circumstances, you can have your partner prepare daily meals for the others to avoid spending too much on your CL's service.
3. Extra 'pop-out' – Extra Child to Care For
If you give birth to twins, triplets (or more) – your CL is basically doing double or triple the work. Hence, the rate would also increase by double. Keep in mind that the CL will clean your baby's bottle and clothes and most likely stay up the night to tend to them. Unfortunately, there is only so much you can do to reduce the cost in regards to this. You can, however, go through several confinement nannies or agencies to compare their prices and go for the lowest. Some agencies will not double the price but instead, offer a lower fixed amount added to the total rate.
4. Yes, yes to all! – Getting ALL the Perks in The Package
An agency normally offers more than just the service of a confinement nanny. Among the common benefits in their confinement care package are daily preparation of herbal baths and performing postnatal massage on consecutive days. If you agree to get any of these, chances are the price will not remain the same. Of course, you always have the freedom to opt out of these if you do not find these necessary for you. If you manage to obtain extra tips and knowledge from your confinement nanny, you could have your partner perform the massage or prepare the herbal bath for you.
5. "She's staying" – Extension of Service
If your confinement nanny has been an angel throughout the whole confinement period, you might consider extending their service. We have come across such cases a lot and they are especially more common among first-time parents. This is mainly because they are worried about having to manage on their own after the CL leaves, but the point remains that a confinement nanny eases your lives tremendously. Some couples even extend their CL's service for another whole month! This goes without saying, but the fee would increase depending on how long you would want her to stay with you post confinement. The cost is normally rated based on the original service package, totalled up by the duration.
6. Little Paw Paw – Owning a Pet
If you have talked to any freelance or CL agencies, at one point you may be required to specify whether you own any pets, what they are, and how many are there. And why would you cost more? For a start, not all freelance nannies might be able to work with pets due to issues like an allergy. An agency, on the other hand, will have to filter their confinement nannies to provide you with one that can work and be around your pet(s), thus costing you more. To cut the cost, you can let your other family members or friends keep them for a while until the service of your confinement nanny ends.
7. "Another level?" – Double Storey Property
Some agencies have made it clear from the get-go that living in a double/triple-storey house might cost you more to get a CL due to the filtering process by their side. As your CL will perform certain household chores, it can be physically-taxing on her if you live in a double-storey (or higher) house. Remember, not all confinement nannies are young and fit enough to climb up and down your house. Bigger space simply means bigger areas for your nanny to work on. If you wish to go for a freelance CL, they may refuse to accept your case for this reason as well. One solution you can go for is by keeping their work area strictly on the ground level only. On a side note, it is also better to have your room downstairs as well so you do not have to constantly climb the stairs after delivery.
8. "I want her" – Choosing Your Own Confinement Lady
Many moms who get CL recommendations from their friends tend to want to go for the same CL as they trust their friends' judgments. The problem with this is that the said CL might not be available during the time of your EDD. Not to mention, additional charges will definitely be applied. 
If she is a freelance CL, there is a possibility that she can be 'stolen' by others who offer a higher price. In turn, you need to bid an even higher price for their service. Your best option? Stick to CL agency. If you see others recommending a CL from a certain agency, chances are that same agency will take care of your welfare and will not hire poor quality CL for their clients.
Note: The act of giving angbao (red envelope containing money) to your nanny on her first and last day is excluded from this list as the amount up to you and your partner. Plus, some couples are not a big fan of this practice and thus do not present their nanny with any angbao.
You May Also Read this : What are the Methods You Can Use to Bathe Your Baby?
---
While some other things you can certainly modify, others are certainly manageable. Contrary to certain accusations, you can still spend wisely when hiring a confinement lady! Nevertheless, despite being able to reduce your cost, the real lesson we are trying to share with you here is that it is not necessarily a bad thing to pay more. 
Everything on the list, when spent more on, is a value-for-money deal. Once you have had an amazing confinement period and enjoyed all the benefits, you will realize that the confinement nanny price is worth the amount for what it does to you!