Confinement Nanny: Daily Care During Postpartum Period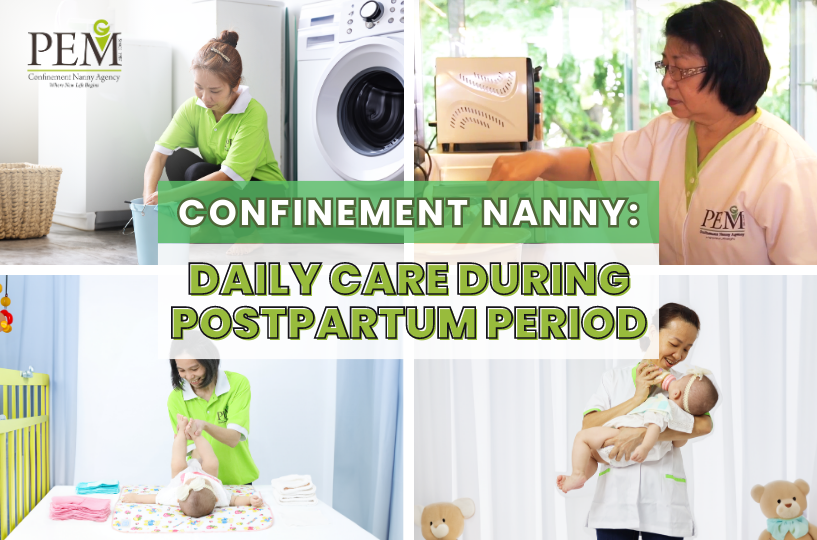 The postpartum period, commonly called confinement month, is crucial for a mother and her newborn. Receiving the correct care ensures the mother's speedy and smooth recovery while also providing essential early-life care for the baby. This is where a confinement nanny enters, offering implausible support during this vital stage.
Understanding the Confinement Nanny: Guardian of the Postpartum Period
A confinement nanny in Singapore assumes various roles. Her job is extensive, from caregiver to chef, advisor to babysitter. Considering the emotional and physical changes a woman undergoes after childbirth, a nanny provides a much-needed hand in managing daily chores, offering baby care support and advising on postpartum practices.
Hiring a confinement nanny in Singapore isn't a luxury but a necessity. With the mother focusing on recovery and baby bonding, a nanny ensures all other aspects of the postpartum period are well taken care of.
Responsibilities of a Confinement Nanny: Ensuring Uninterrupted Attention
A confinement nanny in Singapore works tirelessly to make a new mother's life comfortable and stress-free. Her responsibilities go beyond routine babysitting; she is the pillar that supports the mother during postpartum recovery.
A confinement nanny's daily activities are diverse, centred around the well-being of the mother and the baby. She takes on the role of a caregiver for the newborn, providing round-the-clock attention to the baby. From feeding to changing diapers to lulling the baby to sleep, she is thoroughly equipped to handle all the baby's needs.
Moreover, a confinement nanny contributes significantly to the mother's recovery. She meticulously prepares and serves nourishing, confinement-friendly meals. These unique dishes, rich in nutrients, aim to aid the mother's recovery and increase her energy levels.
Household chores can be particularly challenging during the postpartum period. The nanny also steps in here, handling tasks such as laundry, cleanliness and maintaining the baby's belongings. Her daily tasks are objective-focused, ensuring the mother can focus entirely on her recovery and building a bond with her baby.
The Immense Benefits of Hiring a Confinement Nanny
Engaging a confinement nanny for postpartum care brings innumerable advantages. The mother and the baby benefit equally, ensuring a smooth postpartum period.
For the mother, the nanny provides the many rest periods necessary for recovery. As she takes over the daily chores, the mother can focus on healing and resting. Given the emotional roller-coaster many mothers experience after childbirth, a nanny's emotional support functions heal and soothe. She is a companion aiding any baby blues, ensuring the mother feels understood and never alone.
For the baby, a nanny is an irreplaceable boon. Her expertise and experience in newborn care are invaluable, proving advantageous for first-time parents. As she promptly responds to the baby's needs, parents can know their little one is in safe hands.
The Pioneers in Nanny Services Singapore: Our Unique Offerings
If you are looking for Singapore nanny services that stand out with their dependability and quality, you don't have to look further. We hire exceptional nannies with substantial experience and training in confinement care and newborn care.
Our nanny Singapore prime focus is providing a personalised and professional service that prioritises the mother's needs and comfort. We put in genuine efforts to choose a nanny who aligns with your needs and is well-trained for both you and the newborn care.
Offering services founded on trust, confidentiality and professionalism, our nannies impress with their nurturing yet proficient approach. This high standard of service sets our nanny services in Singapore apart, positioning us as pioneers in the field.
By choosing us, you'll engage in the finest confinement nanny care available, promising an enriching and restful postpartum period.
A confinement nanny significantly impacts your postnatal journey. With our top-tier services in Singapore, both mother and baby are assured superior attention and commitment, making your postpartum period less daunting and more enjoyable.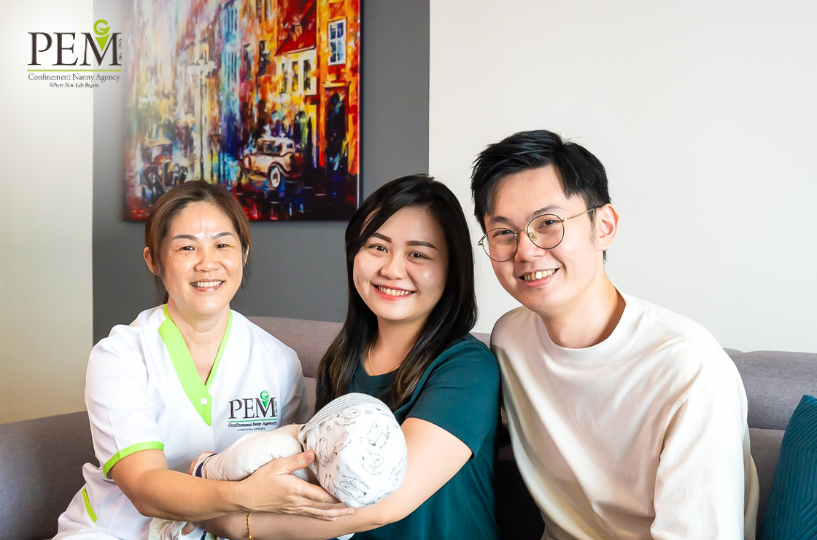 How to Hire a Confinement Nanny in Singapore
In Singapore, the process of hiring a confinement nanny has been simplified, helping new parents access this valuable service. Ensuring transparency and ease, the procedure is designed to be straightforward and user-friendly.
Step 1: Understand Your Needs
The first step towards hiring a nanny is understanding your own needs. This includes determining when you need the confinement nanny – ideally, she arrives one day before the due date to familiarise herself with your home environment and understand your needs. Some parents may also prefer nannies experienced in handling specific needs like twins or premature newborns, while others might have particular dietary preferences. Having these aspects clear makes the subsequent steps smoother.
Step 2: Reach Out
Once you are sure about your requirements, get in touch with us. Provide us with your details and specific preferences, if any. We are prompt in our responses, guaranteeing a seamless hiring process.
Step 3: Choosing Your Nanny
What sets us apart is that we provide you with a selection of potential nannies, allowing you to choose the one that suits your family the best. We allow detailed interviews with shortlisted nannies where you can ask them about anything from their experience to how they handle specific scenarios.
This step ensures you find a nanny that resonates with you on a personal level, creating a comfortable environment for both parties.
Step 4: Setting the Nanny's Schedule
Once you've decided on your nanny, her schedule gets coordinated with yours. The start date and daily routine are set up according to your convenience and preferences.
Step 5: Feedback
Post-hiring, we take feedback intermittently to ensure you are content with the nanny's services. We aim for a 100% satisfaction rate with our thorough follow-ups and prompt actions on feedback.
In conclusion, hiring a confinement nanny in Singapore is a breeze. With our unparalleled customer service and satisfaction, we ensure you and your baby get the best possible care during this beautiful period of your life.
Wrapping Up
A confinement nanny is a vital part of your postnatal journey. PEM Confinement Nanny Agency focuses on experienced and trained nannies, and we even provide up to two times free replacements if you have the need.
By choosing our top-tier services in Singapore, you guarantee unparalleled attention and commitment for both mother and baby, transforming your postpartum experience. 
Don't hesitate to ensure the best care now, and contact us at PEM Confinement Nanny Agency to hire a confinement nanny tailored to your needs!