Common Postpartum Symptoms & Tips to Speed Up Recovery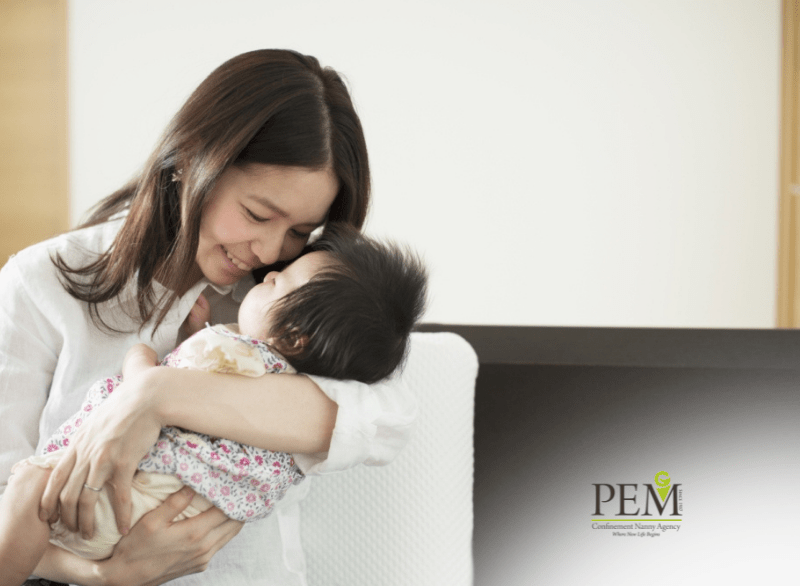 Postpartum recovery after birth is probably the most important thing to prepare for before reaching your due date. For women who go through vaginal delivery, the postpartum recovery period can take up to six weeks. On the other hand, women who give birth through a c-section delivery often need a longer time to recover, which can take up to 10 to 12 weeks depending on individual condition.
Very soon after this, you will be officially playing a new role in your life as a mother. And the first few weeks right after you give birth can be especially challenging as you'll be recovering from your postpartum wounds while taking care of your newborn. To help you be more prepared, let's take a look at some of the common postpartum symptoms and the ways you can help speed up the recovery process.
What Are The Common Postpartum Symptoms?
Water Retention & Weight Gain
Depending on how much weight you gained during pregnancy (this can be anywhere between 5kg to 18kg depending on your BMI and doctor's advice), it can take several months for you to lose your pregnancy weight. Not to mention postpartum water retention around areas such as your abdomen, thighs, legs and arms can also add up to your postpartum weight. Depending on the size of your baby at birth, you can expect to lose between 2 to 5kg after labour.
Postnatal Pain and Contractions
Postnatal pain and contractions occur for a few days after delivery, your uterus shrinks, and it can go from around 11kg after delivery to just a few grams within six weeks. 
Vaginal Pain and Swelling
As one of the common postpartum symptoms, the vagina will also experience an enormous increase in blood flow and fluid. This is because childbirth puts strain on vaginal tissue. On the other hand, many women struggle with urinary incontinence during their postpartum recovery. If you are breastfeeding your baby, you may notice contractions of pain a few days after delivery, as breastfeeding releases chemicals into your body and tightens your uterus.  
Bowel movements can be difficult a few days after the delivery, and you may be facing postpartum constipation due to restricted movements, a change of routine, or soreness after surgery. 
Baby Blues and Postpartum Depression
If you are one of the countless women who feel sad or moody after giving birth, you know you are not alone. This is a common postpartum symptom known as the baby blues, and your mood usually improves after two weeks. However, if you find yourself still feeling sad or down after two weeks, be sure to consult your doctor, as prolonged baby blues may become postpartum depression if left untreated.
If you're experiencing the symptoms above, check these four useful tips out to learn more about the resources you need to accelerate your healing after the birth of your baby. These tips might help!
3 Tips To Speed Up Your Postpartum Recovery
#1: Get Sufficient Rest
You are encouraged to spend as much time as possible with your baby in bed for the first 24 to 72 hours after giving birth, especially if you are trying to get a grip on breastfeeding. After you go home from the hospital, it's best if you can continue to prioritise on getting enough rest. Taking sufficient breaks is crucial to speed up your recovery; therefore, try to balance the time and spend more time on resting than other tasks. If possible, a few weeks of uninterrupted rest at home would be helpful for your postpartum recovery.
#2: Seek Advice from Your Doctor
When you are recovering from delivery, it is best to be alert if you feel that something is not right with you or with the baby. For example, the pain after birth became extremely serious and uncontrollable even after medication or severe bleeding that persists or worsens. Take note that it is normal to have some discomfort as you heal but you should not begin to feel worse. If you're worried about how you feel or you have pain or discomforts that don't feel right, call your healthcare provider or doctor to get advice. Depending on your condition, your doctor may prescribe medication to improve your condition.
#3: Stay Active
Before we get into this tip, we just want to give a quick reminder that it is advisable for postpartum mothers to only start exercising 6 weeks after giving birth, and be sure to get the green light from your doctor before attempting any exercise.
During the first few weeks, the best recipe for a healthy, quick recovery is to rest and reduce exercise as much as possible, especially with a new baby. So get help from your partner, friends or family if possible to spend time with your baby and rest.    
After the sixth week, you may resume moderate workout once you feel up for it, unless you've had a cesarean delivery, difficult birth or pregnancy complications. But remember, take it slow and focus more on long-term health than on short-term results. In this case, you should consult your doctor before taking any exercises, and stop immediately if the exercise is making you feel any discomfort.
Conclusion
Apart from the tips mentioned above, there are plenty of other tips and tricks that can help improve the situation when it comes to postpartum care. You may also read baby books, get tips and tricks from experienced friends and family to prepare for childbirth and postpartum recovery.
So mamas, take a deep breath, calm yourself and stay positive. Bear in mind, any emotional and physical changes you experience after birth will slowly improve. Don't hesitate to seek any support from professionals or your loved ones, whether it's related to your emotions, your baby, or the healing process. With proper help and care, there's always sunshine after rain.
To ease your burden during postpartum journey, PEM Confinement Nanny Agency is always here to lend a hand! As an award-winning and well-established confinement nanny agency in Singapore with over 400 experienced nannies, we are here to give you and your baby the best confinement care and newborn care in town!
Our confinement nannies are experienced and well-trained to assist you with newborn care, postpartum confinement food preparation, confinement bath preparation, breastfeeding guidance, basic domestic chores and more. Enquire now to learn more about our confinement nanny service!