Are Confinement Nannies Necessary? How to Know If You Need One?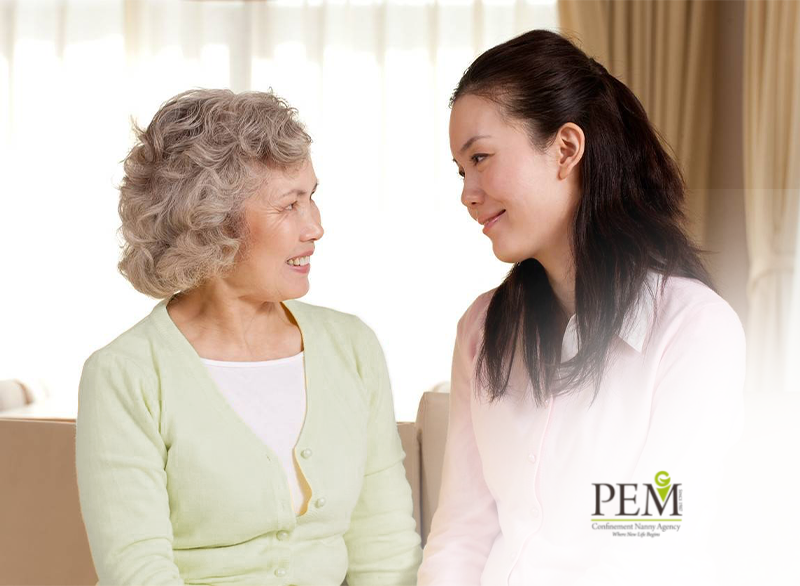 Giving birth to a baby is just the beginning to a long journey of sacrifices, and the confinement period is the first stage of embarking on the adventure. It is a difficult period with many things to learn while needing to take care of yourself and a new life. More often than not, it can be overwhelming for you to handle it all on your own. And that's why confinement nannies exist. They're there to help you with your needs and nurse you back to health. 
But you might wonder. Do I really need one? Is it a must? After all, many women in the past went through their confinement without one and got on just fine. Well, to help with your decision, we've prepared a list of confinement nanny duties to see if they align with your needs.
Day & Night Baby Care
During confinement, you should be focusing on your recovery. But with a baby in tow, it might be difficult to get a good night's sleep or proper rest, which could adversely affect your recovery. Now, a confinement nanny will provide attention and care for your newborn including feeding, changing diapers, cleaning, updating baby's daily log, and even night feeding, taking on quite a big portion of the responsibility off your hands for this period in order while you recuperate and get back on your feet to give your best when she's gone.
Confinement Food
Nutrition makes and breaks a person's health. And after childbirth, you will need the best meals and nourishment, especially if you're breastfeeding. So, a confinement nanny will prepare hearty confinement meals that are full of nutritious ingredients for you and also do basic cleaning of the kitchen after meals.
Breastfeeding Guidance
If you're a first-time mum, breastfeeding is a whole new unexplored world where you might experience hiccups along the way. A confinement nanny will be able to assist you in breastfeeding by providing guidance and help in nursing for your newborn, while answering your questions about the process.
Newborn Care Guidance
Having insufficient knowledge of newborn care can make the experience a daunting one. Even having the knowledge but not the experience might not make it any easier. But with a confinement nanny, you will have someone who can provide tips and knowledge on baby care as they are professionally trained and usually have experience too, whether personal or professional.
Confinement Herbal Tonics
The confinement period does not only mean nutritious food. If you come from a Chinese background, you will know the wonders that herbs can do, and herbal tonics are amazing for recovery after childbirth. Having a confinement nanny would mean having someone to prepare and brew herbal tonics and tea like red dates tea for you.
Confinement Bath
Herbs do not only work on the inside of the body. They do on the outside too. This is why they are used for baths during confinement as they help with expelling wind, improving blood circulation for the mother, and reducing after-birth pain. A confinement nanny will take care of the confinement bathing herbs preparation for you to wash up with and even prepare your bath to ensure it is nice and warm, so all you need to do is get into it and enjoy the benefits.
Laundry for Mother & Baby
Although not necessarily her main job, a confinement nanny can do the laundry for you and your baby, including washing, hanging, and folding the clothes. She can even hand wash your little one's tiny garments to make sure they do not get ruined in the wash and are cleaned with the right liquids or products. After all, a baby's skin can be quite sensitive. With a confinement nanny around, you won't need to lift a finger if laundry is included as part of her services with you.
Domestic Chores
Last but not least, similarly to laundry, a confinement nanny can help with some house chores like sweeping and mopping the floor, if this service is included in her contract with you. House chores can be such a bother when you do not have the time, mood, or capacity to do them. So, having a confinement nanny means you can still keep your house clean even if you do not have the energy to do it yourself.

If any of those tick any of your boxes of needs, then you might just need a confinement nanny. After all, you will need all the help you can get during confinement even if you've gone through it before, and especially if it's your first time. And guess what? Here at PEM Confinement Nanny Agency, we offer all of that and more. Don't believe that? Just take a look at our confinement agency Singapore reviews and you'll be blown away. So what are you waiting for? Book one of our confinement nannies today!