An Inside Look at How PEM Hires the Best Confinement Nanny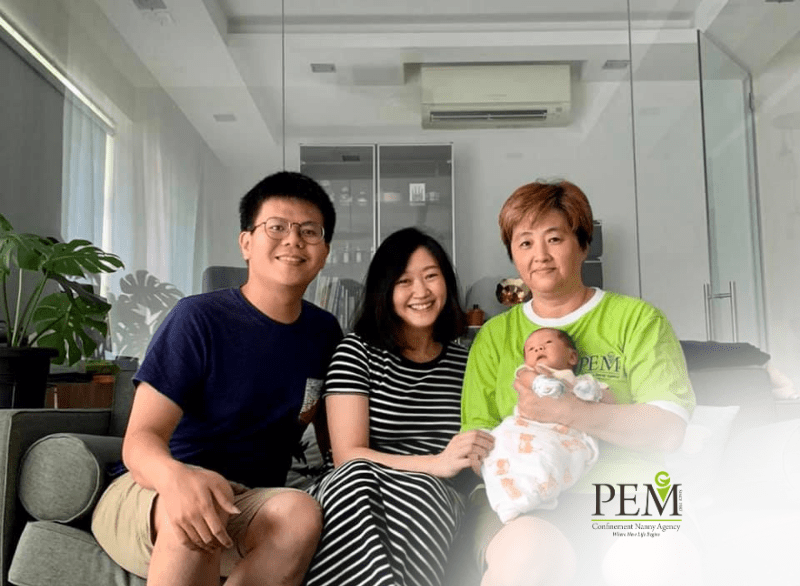 Looking to hire a confinement nanny, but not sure where to get one who you can entrust your newborn to? You may have heard of PEM Confinement Nanny Agency as the largest confinement nanny agency in Singapore, but did you know that we are also an agency that emphasizes greatly on the quality of our nannies? With over 30 years of experience in the industry, PEM has served more than 15,000 satisfied mothers and counting. So how exactly do we ensure our service quality? In this exclusive reveal, let us share with you what happens before our nanny arrives at your door.
What criteria does PEM look for when recruiting confinement nannies?
First thing first, a nanny has to be physically fit in order to provide the best care for you and your newborn every day and night, throughout the whole confinement month. Hence, during the screening process, we will carefully select suitable candidates based on their age, physical and mental health condition, and past work experience.
A candidate has to go through multiple tiers of assessment before she can officially become a PEM confinement nanny. The process starts with us filtering suitable candidates through phone interviews. Candidates who passed the phone interview will be invited to our in-house training centre, where we assess them in person based on their overall appearance and attitude. Then, qualified candidates will be offered to join our dedicated training program, followed by a strict training assessment at the end of it. During the training, the trainee will also be required to go through a medical checkup.
What is the confinement nanny training about?
The PEM confinement nanny training program consists of over 150 hours of intensive training on both theoretical and practical skills, and assessments to rate the trainees' competency.
The training program covers important and relevant skills that prepare our nannies to support mothers and their newborns whenever needed. Some of the highlights are:
Baby Care

: Our nannies must be knowledgeable and skillful in attending baby's basic needs such as feeding, bathing, diapering, putting baby to sleep, and keeping baby's milk bottles clean by sterilising them. The nannies also learn how to monitor baby's overall health by taking baby's temperature and observing baby's soiled diapers. Moreover, our nannies are trained to help newborns to sunbathe safely to improve jaundice.

Confinement Care For Mom

: PEM confinement nannies are trained to provide guidance and advice to mothers on nursing, latching, lochia discharge, and postpartum recovery in general. 

Confinement Meal Preparation

: Our nannies are not only trained on confinement food preparation, but also basic traditional Chinese medicine knowledge to brew confinement herbs. For you to enjoy a wide variety of nutritious confinement meals, the training covers cooking tutorials on how to prepare food ingredients  (e.g. chicken, pork, fish) in different cooking styles. Other than training our nannies to prepare daily meals that consist of staples, meat, vegetables, and soup, they also learn about the best food for mothers to have and the food to avoid during confinement.
How does PEM evaluate that a nanny is ready to serve customers?
At the end of the training program, written and practical exams are given to the trainees to test their understanding of the topics taught. On top of paper-based exams, the trainees are evaluated based on their hands-on skills in areas such as steps to do upon arrival at the customer's home, bathing, feeding and burping baby, cleaning baby's umbilical cord, basic first-aid for choking baby, breast massage, storing milk, and sterilising milk bottles. 
Only when a trainee passes all the assessments above and gets her work permit will she be able to serve as a confinement nanny. To ensure our confinement nannies remain skillful with the knowledge learnt, all nannies are required to fulfill a minimum of 8 services per year.
How does PEM manage the performance of the confinement nannies?
Our effort in ensuring the quality of our nannies goes beyond our training program. After our confinement nannies start their service at your home, our friendly customer service officers will give you a call to listen to your feedback. In the event that you are not satisfied with your confinement nanny, we do offer two times of free replacement of nanny for you. At the end of the confinement nanny's service, she will also provide you with a feedback form to rate her service.
At PEM Confinement Nanny Agency, we are constantly improving our service based on your suggestions, and we take your concerns seriously. Should a confinement nanny receive unpleasant feedback due to her incompetence at work, she will be sent for retraining before she is allowed to serve customers again. With the exception of immediate termination due to serious negligence at work, confinement nannies who receive negative feedback or replacement requests up to three times will be terminated.
If you have any special requirements when engaging a confinement nanny, you may highlight them to us upon booking, and we will arrange a nanny who best suits your needs for you.
You May Also Read this : How do I Get The Best Confinement Nanny Service?
What other assurance does PEM provide for customers?
To help you enjoy restful confinement with a peace of mind, we also provide free insurance coverage for our nannies when they take care of you and your baby. Under eligible circumstances, the insurance helps to keep you and our nannies protected against any risks.
A Final Note
We hope this sharing gives you a better understanding of our dedication to give you and your little one the utmost care during confinement. Based in Woodlands, PEM is a  Singaporean confinement nanny agency that provides professional and reliable confinement nanny service. Interested to know more about our confinement nanny service? We are just a phone call away!