A Confinement Nanny's Duties To Mom & Baby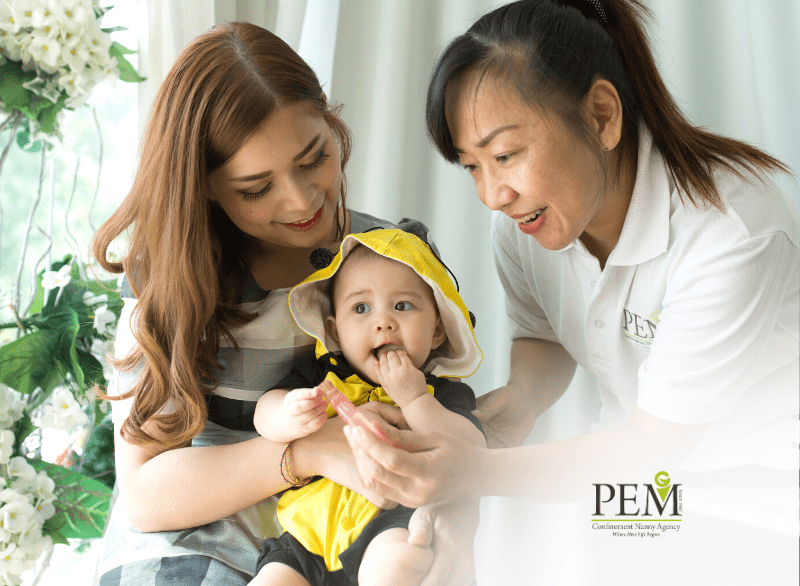 Confinement is a transition period for mummies from pregnancy to post-delivery. They need to have time to rest, recuperate, at the same time to take good care of the newborn. This is where a confinement nanny plays an important role during a mother's confinement journey, especially for those who never lived with their parents. It is an unfamiliar journey for most of the first-time mums even though they have attended antenatal classes before delivery. 
 So how can a confinement nanny support mothers during the confinement month? 
Take Care of Your Daily Meals
Preparing meals sounds like a common job but this is the main source for mummies to replenish their nutrient and restoring their energy. Nanny knows exactly what ingredients can help to replenish the blood and to provide the essential nutrients that postpartum mums need. They will brew the herbs according to your needs and situation.
Since nannies are trained on the preparation of the meal, this avoids mummies from consuming the ingredients that are not suitable to eat in the confinement period, such as raw food and spicy food. Also, you don't need to always figure out what to eat as a nanny will help you out on that!
Provide Breastfeeding Guidance
Confinement nanny will guide you on the breastfeeding journey. Every mom would face different breastfeeding challenges and having an experience one by your side can provide you with immediate and effective support. 
Problems like breast engorgement and block dust are a common issue faced by mummies while nannies are trained on these. They will also provide tips on baby latching and nipple care so you are able to reduce problem like a cracked nipple.
Provide Baby Care
A trained nanny will always make sure your baby is warm and full. Nanny will help with feeding your little one, especially when you need to take a nap or during your sleep time. Besides, you might need to change the diaper for your baby every few hours and your nanny can help on this too! 
Not only to help on daily baby care, the nanny will guide parents on how to handle baby properly with bathing, burping and also to check on the baby situation from clue like the colour of baby's poop. Nanny also ensure baby is taken care of hygiene like cleaning and sterilizes the milk bottles. If you haven't got a quality milk bottle, you can shop on MumChecked for various choices! 
You May Also Read this : Essential Baby Care Tips for New Mothers
Help in Domestic Chores
Postpartum recovery is an important stage for mummies to restoring their energy. Nanny will help with maintaining hygiene so mommy can have a better recovery time in a comfortable environment. Simple chores like sweeping and mopping will prevent mummies from worsening the wound. 
Since some mummies fear the "wind" entering the body and avoid touching water, nanny can help on the laundry job as baby's cloth is more suitable for handwashing. Other jobs like cleaning up the kitchen are also covered by a nanny.
Emotional Support
It can sometimes happen that you just feel too overwhelmed and think that you are not doing good enough as a parent, which is known as "mom guilt". It can happen when you lose your temper to your crying baby just because you are too tired. A confinement nanny is always ready to give their helping hands as they know normally what a mom will go through. Experienced nanny will always encourage you and you will know that you are not alone.
A Chinese confinement after giving birth normally last for a month and that restrict mommy from doing a lot of things. Hiring a trained confinement nanny will relieve mom's burden and most importantly, takes good care of both mom and baby during the confinement month!